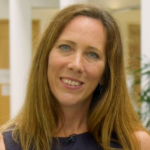 Karen Foley is a lecturer at The Open University and is chair of Y034, the new Psychology, social science and wellbeing access module. Karen is an associate lecturer on DD210: Living Psychology, and is involved with a range of university initiatives.
She has a key interest in student engagement, community and sense of belonging, and widening participation.
In her spare time, Karen plays the cello and enjoys training for and taking part in mid to long course triathlons.